New products from Hama
The new products for 2020 are ready to be sold in the stores. The new items include Inspiration 18, 6 new Midi colours, a new doll pegboard, Hama connector and a wide variety of themed boxes.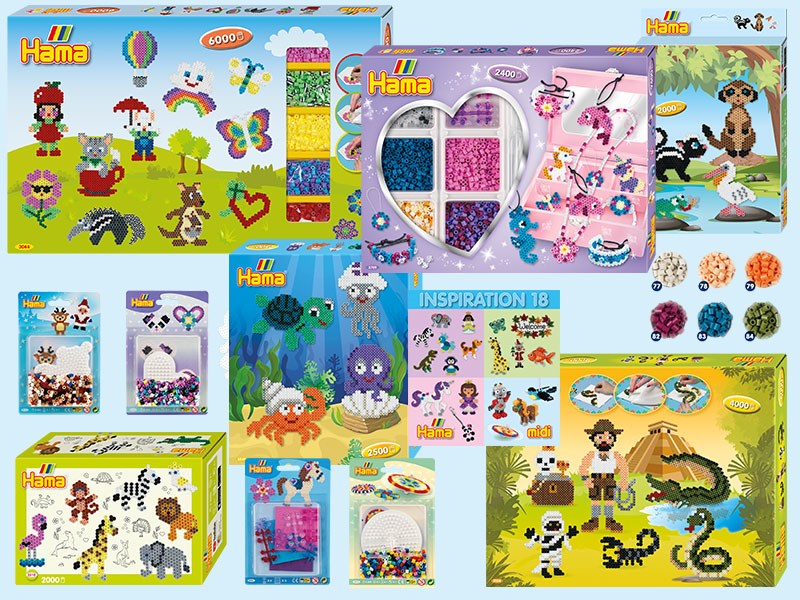 Midi
The 6 new colours are: cloudy white, light flesh, apricot, plum, petrol blue and olive green. The colours make excellent additions to our existing range of colours. The new colour chart can be seen here. Beads are available in our bags of loose beads 201, 205 and 207, and are also included in a number of the new products.
The new pegboard has the shape of a doll. It has been designed in a way that enables a wide variety of creations. The doll can wear a crown, its hair can be arranged in a bun or loose. The doll can be small or large, while the clothing can range from dresses, trousers, skirts, outdoor clothing etc. The doll pegboard is available as a separate item, in a box with dress-up dolls, hanging box with dolls and in a blister pack with other pegboards.
The Hama connector can be used to assemble 3D motifs and create moving parts. Likewise, the long stick can be used for a spinning top. The Hama connector offers great play value to the Hama motifs, since the 2D motifs can now easily and safely be made into 3D versions. The Hama connector is used in 3D Dino, the dress-up dolls and the blister pack with the spinning top. You can find more inspiration about how to use the connector on our YouTube Channel.
Inspiration Book 18 is filled with exciting and new motifs as well as ways to use the Hama beads. As well as showcasing the six new colours, it also includes many different pegboards, for example the doll and Hama connector are used to assemble some fantastic 3D motifs. Each page shows which bead colours have been used, while we have noted down the colour numbers on the flap at the back.
The new themed boxes are: adventure, airport, various cute animals from both land and sea, jewellery and pendants and small blister packs.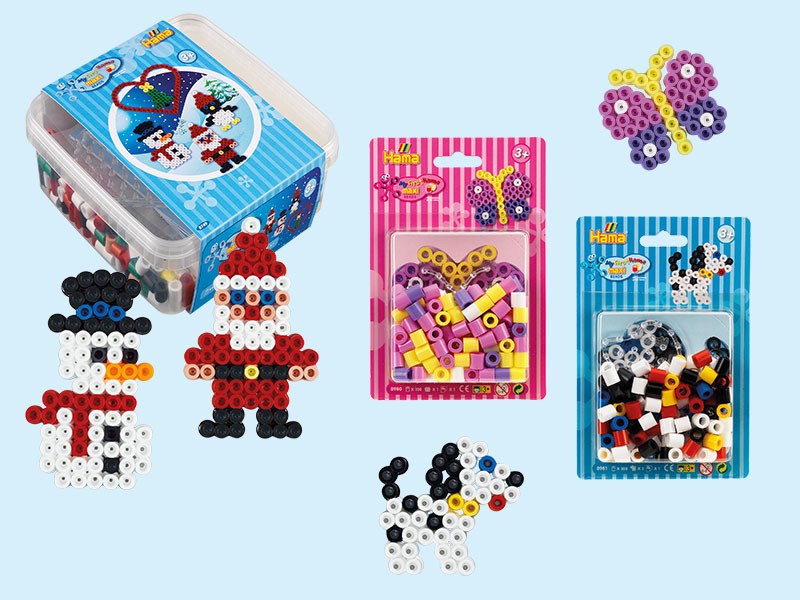 Maxi
We have made two blister packs using the two small pegboards, dog and butterfly, which we launched last year. These make good starter packs for first-time Maxi users. The pegboard is small enough to be a manageable task for even the youngest Maxi user, whether the child follows the pattern provided or chooses to make their own, equally attractive, pattern.
Our first Christmas-themed pack in Maxi has arrived this year. It is possible to make four different attractive Christmas motifs from the contents of the box.