Hama Universe 
Beads on-the-go
With a tablet or mobile phone, children can let their creativity blossom wherever they are, even in places where traditional bead play would not be realistic. In the car, on the sofa or waiting for an older sibling to finish their swimming practice - Hama Universe offers hours of creative play.

The app features six islands with about 60 patterns on each. There are 20 different pegboards and 18 different colours, including 3 luminous ones where you need to "turn the light off" to see the attractive effect. When on the rainbow, you can choose between all 20 pegboards and design exactly the pattern you want. If you "iron" it, it will be saved to the big green planet, where you can send it to those you love.


Hama Universe is for everyone who likes to play with beads, but is designed for children aged 5-7 years as the primary target group. The app can be downloaded for free from AppStore and Google Play.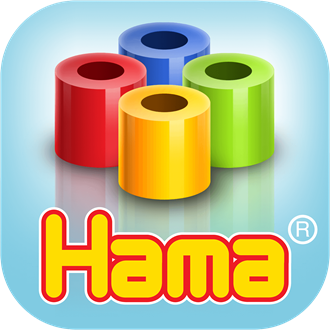 Hama Universe - app
Check out how fun, easy and relaxing it is to play inside Hama Universe.
About going digital  
Malte Haaning Plastic A/S, which has been manufacturing beads since 1971, has launched its Hama Universe app, a digital universe for classic play with beads and pegboards.

Hama beads, their invitation to creative, educational play and the high quality of the product have put the Hama brand in a unique position on the global market. This success has now been expanded to a digital platform.

Developing an app was not without reservations for this family-owned company, but Hama Universe stays true to what lies at the heart of the Hama product - playing with beads, patterns and pegboards.

This is a colourful universe comprised of themed islands; pirates, princesses, a circus, wintertime, mystery and traffic; all challenging children's fine motor skills and memory in positioning the beads to reproduce the patterns before they are "ironed" and saved in the digital universe. Hama Universe supports creative play and promotes children's concentration, creative abilities and creativity.

Hama Universe is an extension of traditional bead play in a new framework that explores uncharted and exciting territory for bead users.